What We Do
At Blair Eye Associates, you will find an experienced and helpful team of eye care professionals dedicated to meeting your eye health needs. We recognize you have a choice for your eye care professional and thank you for choosing us to care for your family's vision needs. We invite you to refer your friends and family to our eye care office, and to learn more about us today.
About Our Staff
Staff members at Blair Eye Associates are well trained in their field of expertise and attend continuing education classes throughout the year. This creates an office culture designed for excellent patient care and personalized service.
Meet the Doctor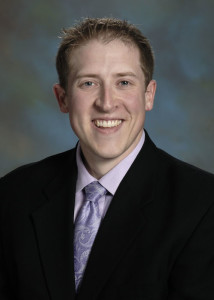 Dr. Ryan G. Palmer takes pride in providing the one-on-one interactions required to solve eye health and vision problems and enjoys caring for the patients in Blair and the surrounding communities.
Dr. Ryan Palmer is a native of Albion, NE.  He is a third-generation Optometrist after his grandfather and father.  After completing his undergraduate degree at the University of Nebraska at Kearney, he moved on to receive his doctoral degree from Indiana University School of Optometry.  During his training, he rotated through Bascom Palmer Eye Institute in Miami, FL as well as taking the opportunity to provide care on an internship rotation at the Eye Care Center in Guanajuato, Mexico.  He then completed his residency at Cincinnati Eye Institute.  After completing his residency he was on staff at Cincinnati Eye Institute in the vitreoretinal service and anterior segment service.  During his time in Cincinnati, he participated in clinical trials involving multifocal cataract implants and Age Related Macular Degeneration.
Dr. Palmer moved back to join Dr. Byford Klein in practice in 2010.  In 2013 Dr. Klein retired and Dr. Palmer continued patient care. The practice is now known as Blair Eye Associates.
Dr. Palmer is a Fellow in the American Academy of Optometry.  He is also a member of the American Optometric Association and Nebraska Optometric Association.
Dr. Palmer is a member of the Blair Lions Club and serves on the Board of Directors for the Blair Area Chamber of Commerce.
Dr. Palmer lives just outside of Blair with his wife Alexandra and his children Lucas, Madeline and Amelia.  In his spare time, Dr. Palmer enjoys spending time with family, farming, college football and music.